Interior Design • San Diego
Ten furniture & accessory Christmas gift ideas for computer geeks
December 1, 2011
10. Airplane desk
Love air travel but hate getting molested by the TSA? Get your flight-time jollies every time you sit down to check email, surf the web, or heaven-forbid do some actual work on the DC-9 Airplane desk by Motoart.
The manufacturer touts that this 'piece of aviation history comes from what's widely revered as the most durable, military aircrafts ever in production'. I guess that's good news if your biggest concern for office furniture is surviving being bombed or shot at by other enemy aircraft nearby. But back-story aside, the folks at Motoart seemed to have put plenty of thought and attention to detail in these. And with the option for a standard 8' wide and up to 20' custom sizes, it shouldn't be hard to find one that fits your office.
So grab a small pack of peanuts, the latest issue of Skymall magazine, and fasten your seatbelts for an emergency landing in Awesomeville.
9.  USB Multiboard
Your keyboard takes up some of the most valuable real estate on your desk. Take it back in style with this UBOARD Smart USB Multiboard by Pyramid Solution.
Three USB ports, a cup holder, and a memo holder make this board immensely functional while still maintaining incredible style. The only thing this doesn't do is charge your iPhone.. Oh wait never mind, they got that covered too!
I am especially a big fan of the top surface being made out of glass because that means it's easy to Windex and clean. The photo depicts this glass area being utilized by an iPod, a book, one pen and a calculator. Really? A calculator? Nice try marketing department, but for most of us not living in the 1993, that surface is more likely going to hold a plate of re-heated frozen pizza, an unrelated fork and knife from a different meal, random expired coupons, and a copy of WIRED magazine. Nonetheless, this is extra space that you never had before in the first place for those items!
8. Ninja star push pins
Let visitors who come into your office know that you mean business with these Ninja Star pushpins. You want those TPS reports? I kill you!
It would be nice if the ninja stars came in varying star designs as would real ninja stars.
7. Macquarium
What better way to commemorate one of our generation's great visionaries than to breathe new life (and I mean that literally) into one of his old products. Just as the name suggests, this must have accent for any apple fan's office. It combines your two favorite things together at last: nostalgic Apple computers and oceanography.
Jake Harms is the visionary (in his own right) who came up with this idea to hollow out an old Apple G3 and turn it into a 3.5-gallon fish tank. He even takes the time (2 hours apparently) to buff and polish the old iMacs to make them as shiny and glossy as possible. Looks easy enough for a DYI project as well if you've got an old iMac laying around. But even for that, Harns sells a DYI kit that provides everything you need if you already have the actual shell. I can't decide if the $250 price tag is too much or not enough for something like this but I do know that it can only get pricier over time. Perhaps if they were mass produced in a 'designed in California, assembled in China' fashion, it would reduce costs?
So this is pretty much great for all parties involved. The fish get to live in an environment that is not prone to viruses, and the iMac gets to experience what it's like to house an animal other than a Puma, Panther, Tiger, Leopard, or Lion. It's a win-win situation.
6. Dream bookshelf
Come with me, and you'll be in a world of pure imagination. Or at least an office of pure imagination.
The only thing more boring than books is the bookshelves they sit on. The Dream Bookshelf by Dripta design remedies that problem by breaking the mold of stiff, square shelving and instead replacing that with soft, elegant lines, and imagery that is sure to inspire. It's hard to look at this and not want to relax or be creative… or at least take a quick nap.
It comes in white or black to suit whatever your interior design needs may be, but I personally would rather look at white than black clouds in my office any day, especially in San Diego.
5. Like/dislike stamp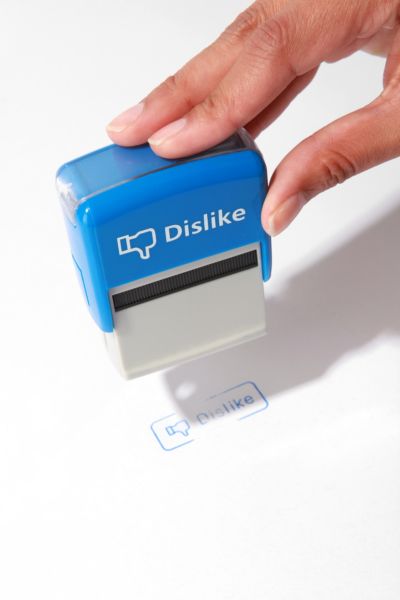 Since the dawn of the era of Liking things, users have begged and pleaded with Facebook to give them a dislike button. And while Mark Zuckerberg has yet to make that a reality, Urban Outfitters has gone ahead and implemented its own version in the form of a physical stamp. What better way to make it clear to your coworkers how you really feel about their deliverables in a way that anyone will understand.
4. Herman Miller SAYL office chair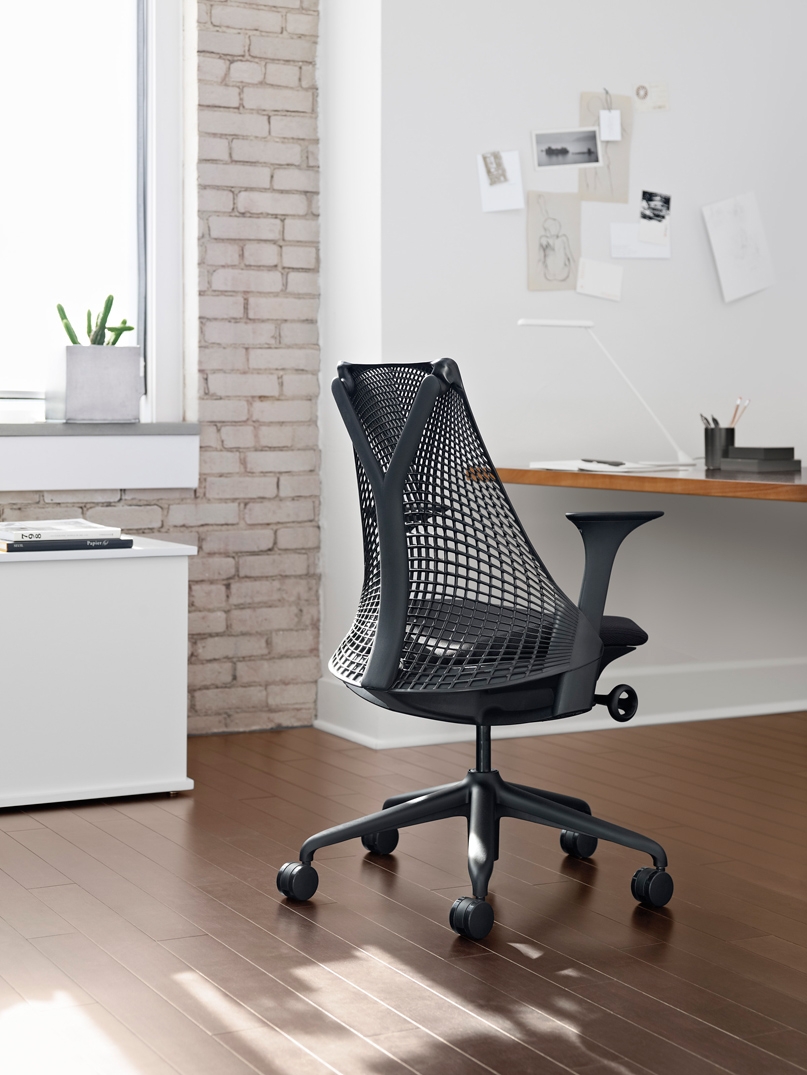 If you are plotting to take over the world, this sinister-looking chair is perfect for you to swivel around in when someone enters your lair. I see the great folks at Herman Miller tried to schnazz it up by placing it in a cool, contemporary, loft situation in the photo above, but I'm still not shaking that Dr. Evil feeling from that web-looking back. Don't worry, it does come in many different lighter, and more colorful versions though, so you have options.
Regardless of how it looks, I can't stress enough how important healthy computing habits are, which is why any Herman Miller would be a good choice. You protect your iPhone with a case, so why not protect your back and prevent long-term problems with an ergonomic chair. There is even a few from Costco online that are currently on sale that are less pricy than the SAYL.
3. USB dock and laptop stand
The Blue Lounge space station turns this:

Into this:

By doing this to the cables:

Nuff said. There's even a nifty paper holder in the right corner for your memos.
Oh and if you are confused about how your laptop sits on it as I was at first, it's inclined so your laptop will actually be propped up in the back tilting it forward a bit, which is better ergonomically anyways.
2. iPhone app paintings
Ever love the iPhone so much that you wished you could be inside of it? This artist from the UK has the answer for you with these cool 20cm x 20cm paintings of iOS apps. Here, it is depicted on a white wall, but I feel like it would look so much better on a black one to achieve the full effect.
At $499 for a set of 16 hand-painted icons including free shipping, it comes out to be $31.19 each, which is fairly reasonable. Even more reasonable is the digital prints that run $275 for a set. I would pretty much buy it in a heartbeat if the Calendar app changed dates every day just like the real Calendar app on your iPhone.
They look great up close too:

1. Nuke lamp
This is the perfect accessory if you are looking for something to coordinate with your grenade paperweight, bullet thumbtacks, and landmine coasters. Or if you are Kim Jong Il.
Brought to you by 3-D printing technology (what does that even mean??), this lamp carries a hefty price tag at close to $1500. As a lamp, that may be a lot, but as a piece of art that may or may not also make a political statement, it seems much more justifiable.
This entry was posted in
Accessories
,
Art Imitating Life
,
Gifts
,
Office
,
Top 10
and tagged
bookshelf
,
chairs
,
desks
,
geeky
,
organize
. Bookmark the
permalink
.
Recent Posts

Archives

Categories

Meta